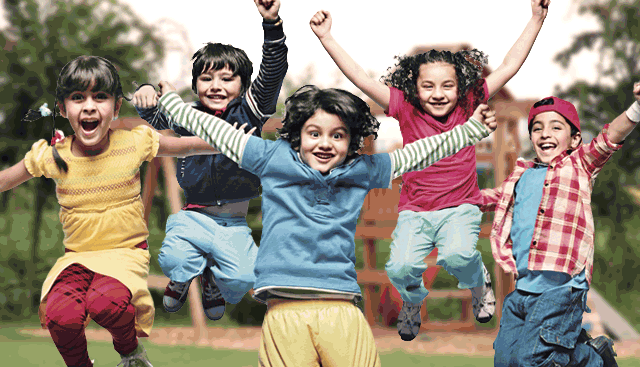 Summer time for kids means no studies, frequent outings, extended play hours, cheerful laughs and memorable moments with friends and family. For parents, however, it means trying to entertain children hour upon hour without letting them wreak havoc in and around the house. With a busy schedule and no summer holidays for working parents, a summer break can be tough. Here are 5 ways you can keep your kids entertained without breaking the bank.
Gardening with kids:
Gardening is one of the best ways to teach kids something new and useful all the while keeping them engaged for longer. Not only do kids learn about different seeds, plants, vegetables and fruits, they are actively involved in the process. Most kids are also eager to eat what they grow, so it's also an easy way to help kids eat healthier and better. Moreover, you can use scraps from the kitchen to grow vegetables without having to spend any extra money. Vegetables like tomatoes and bell peppers, fruits like lemons, fresh herbs etc grow easily. If you do not have a garden, you can plant these in pots. Besides, research shows that gardening together improves family bonding , teaches kids patience and makes them more organised.
Easy Cooking:
Take the time to teach kids the basics of cooking. Whether it's simple tasks like whisking an egg and making lemonade for younger ones or bigger tasks like making a simple breakfast and tea for slightly older ones, cooking with kids can be surprisingly fun. Cooking not only teaches kids some important life-skills, it also involves precision and following instructions which as a result enhances kids' concentration power. Also, instant appreciation boosts confidence in kids and will make them eager to help out at home more often. Take a look at some easy cooking recipes for kids here
Encourage Reading:
It's admittedly difficult to get kids committed to reading, but summer holidays is the best time to start. Since children rarely study during this time, they lose touch with regular reading. Stories help kids enhance their reading and learning skills and also keep them entertained and quietly occupied. If your kids find reading boring, try an app like FunDooDaa Books that has fun, interesting stories in audio-visual format. Kids can listen to their favourite stories and also engage in fun activities like brainy bonus, digital colouring, puzzles etc.
Painting:
One of the best ways to keep children entertained during summer break is to let them paint their hearts out. Research shows kids are naturally attracted to colours and as such painting will keep them occupied and engaged. Painting has other advantages too. It will help kids to express their creative and artistic selves in a better way . Moreover, splashing colours is fun. So, painting will for sure bring a smile on your little one's face and make him/her happy.
Arts & Crafts:
Anything new generates interest in kids and demands their attention for the time being. Easy craft work like making cards for friends and family will keep kids entertained and bring out their creative side. Not to mention, these cards become cute keepsakes for parents to look at years later. Lots of card making kits are available in stationery stores that are inexpensive and will keep kids occupied. Making homemade cards can be a summer project you give to your kids every year and it will also save you from having to buy cards for birthdays and anniversaries. You can look up some easy crafts for your kids here.
Try these fun activities with your toddler this summer and see how productive and easy-going the days become.