Chiemedia Pvt. Ltd. Launches FunDooDaaBooks App
Chiemedia Pvt. Ltd has launched FunDooDaaBooks an app which brings to life a library of children's stories on iPads, iPhones and Android devices. FunDooDaaBooks app also introduce children to the wonderful culture, the great epics, the varied folktales and the rich heritage of India. The aim is to take your child on an exploratory journey where they can learn values, understand emotions and build their reading skills.  Kids can access their favourite stories with just a tap and explore it in multiple ways. The FunDooDaaBooks App was launched on October, 2016.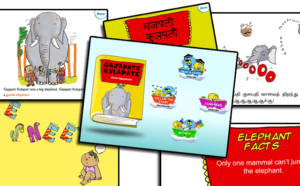 FunDooDaaBooks App has a library of hand-picked books which have been curated with the same love and affection as parents choose books for their children. The app has the following features- 
Read & Learn – This section allows children to explore the story in English from a choice of storytellers with read-along highlighted text. They can click on key words to hear their pronunciation with meanings, touch the screen to interact with the characters and objects in the story. 
Tell me the Story – Here the kids can listen to the story in their preferred language – Hindi, Kannada, Tamil, Telugu, Gujarati, Marathi, Bengali and Malayalam.
I can read – This feature allows the children can read and explore the stories on their own.
Brainy Bonus – In FunDooDaaBooks App the stories comes with informative facts called the Brainy Bonus to deepen their story reading experience.
Activity – Each story has a fun activity for children to release their creative thinking and problem solving abilities through colourful puzzles, mind games, brain boosting word games and more, which are inspired from the stories itself!
One of the unique features of this app is that it tries to make the child reconnect with one's culture through one's own mother tongue. Brilliant illustrations in various Indian art & folk art styles and read along text with interactive animations make for a great story reading and learning experience for your child. The app facilitates its subscribers to download the books in ala-carte mode or avail the monthly subscription at Rs. 100.
The End!